July 25, 2006, an ''Alabama Day '', as His Excellency, Indian Ambassador to the US, Mr. Ronen Sen, called it, was an important day for folks from Birmingham, Alabama. This day, the officers of SunGard Omni, a benefit plan division of SunGard, traveled to Washington, D.C. to meet with the Indian Ambassador. SunGard Omni officers, experts in retirement benefits, believe India is breaking new grounds for this opportunity. The purpose of this meeting was to make Ambassador Sen and his economical and finance staff aware of SunGard's interest in Indian market.
SunGard has expertise in defined contribution administration and a successful track record in implementation of their services with Australia's Superannuation plan, said President of SunGard, Mr. Don Mackanos. India retirement market can utilize SunGard's knowledge and technology to rapidly move India's retirement servicing capability to state-of-the-art, said Mr. Hal Busby, Sr. Vice President of SunGard Birmingham division. SunGard Birmingham division already has two offices in India, Pune and Bangalore, and is capable to assist India, on notice, was added by Mr. Santhosh Keshavan, International Sr. Director. Ambassador Sen appreciated SunGard's retirement experience in the global market and their offer to help with regulatory changes and technology in India.
The "Alabama Day" meetings were facilitated by Mr. Anil P. Agarwal, president of Alabama India Business Partnership (AIBP) and AK-Global Solutions. A strong proponent of business partnerships between Alabama and India, Agarwal is convinced Alabama and Indian companies would benefit from strategic alliances in future. A market between the two greatest democracies of the world can not be ignored, said Agarwal. Agarwal has been requested by SunGard officials to facilitate a meeting with the Minister for Economical Affairs and Finance, Mr. Anoop Mishra, to discuss the next steps. That's why we have "Alabama India Business Partnerships", he said.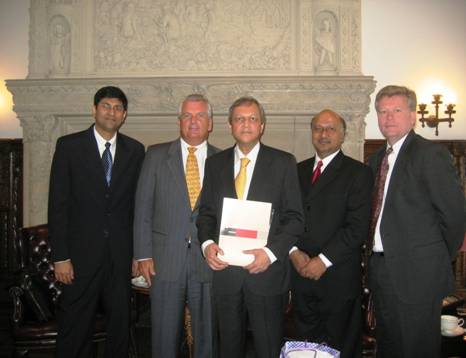 Pictured from Left: Santhosh Keshavan, Don Mackanos, Indian Ambassador to US - Mr. Ronen Sen, Mr. Anil P. Agarwal, and Hal Busby.
Agarwal later accompanied Ambassador Sen to meet with Alabama Senators, Mr. Jeff Sessions and Mr. Richard Shelby in their respective offices in Washington, D.C.
Mr. Sessions was very delighted to meet with Indian Ambassador in his office. During their dialogue, commonalities of two greatest democracies were discussed between the dignitaries. It was evident the two high ranking government officials shared the core democratic principals with strong beliefs and respected each other's opinion. Both agreed with Agarwal that business opportunities exist between Alabama and India and on a larger scale it is important from a geo-political stand point. Mr. Sessions would like to meet with AIBP and its members on his return to Alabama.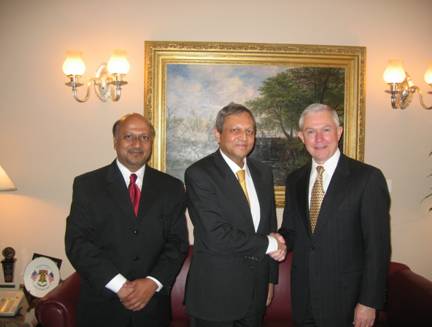 Pictured from Left: President of AIBP, Mr. Anil P. Agarwal; Indian Ambassador Mr. Ronen Sen, and Alabama Senator Mr. Jeff Sessions.
Indian professionals working in Alabama are tax paying and law abiding citizens of the state and I am excited about their entrepreneurship spirit in the growth of the state's economy, Senator Sessions said.
Mr. Shelby commented that he was happy to learn Indian community is doing well in Alabama. He recognizes the 100% literacy rate for people of Indian origin in state of Alabama and the value they bring to the state's economy. He is also interested to learn more about AIBP's mission and assist in its future efforts to boost business partnerships between Alabama and India.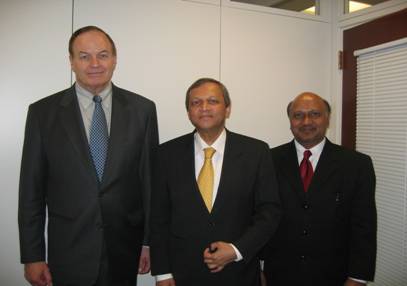 Pictured from Left: Alabama Senator Mr. Richard Shelby; Indian Ambassador Mr. Ronen Sen; and President of AIBP, Mr. Anil P. Agarwal.
Indian Ambassador Sen was pleased to see the leadership of AIBP board to build new business partnerships between Alabama and India companies. He assured his office and staff would assist in any help we may seek in future. He commented positively on new geo-political relationship taking place between USA and India - the two greatest democracies of the world. It is history in the making "Ambassador Sen said".
Prepared by:
Anil P. Agarwal
President, Alabama India Business Partnerships (AIBP)
205-422-6458
Dated: July 25th, 2006